Chrysler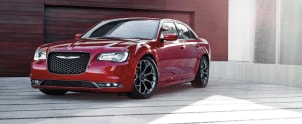 When it comes down to it, there are only a few ways to decide which vehicle is best to get you around South Burlington. You'll probably read lots of specification lists and vehicle comparisons. You'll likely take some vehicles at your local Vermont car dealership for a test drive. But when it comes down to it, your best bet is to read vehicle reviews. Why? Because reading vehicle reviews gives you incredibly pertinent information on what matters to you most.                
A powerful engine can get you where you want to go. Let's face it, you want to make sure the vehicle you're buying, whether it's a Chrysler, Dodge, or Ram, will provide the power you want. Reading vehicle reviews can give you the clarity you need to know whether the vehicle is as powerful in action as it is on paper before you head over to your Vermont dealership to check it out for yourself. The reviews let you know whether the vehicle in question is worth your time. Of course, with Dodge, Chrysler, and Ram vehicles, you know you're going to get a powerful engine regardless of the vehicle.                
Thankfully vehicle reviews written by experts such as the professionals at Goss Dodge Chrysler in South Burlington, VT, can really give you a clear view of vehicle technology. As a new, used, and certified pre-owned Dodge, Chrysler, and Ram dealer, we work with plenty of vehicles and know tons about the different kinds of systems they have.                
Safety is the only standard you shouldn't be willing to compromise. Safety features are what many new car buyers are looking for in their next vehicle. Why? Because when you're carting around your family and friends, you want to make sure everyone will be safe in the event of a collision. Reading reviews can give you an idea of what safety features are available and how they work. You also want to know whether these features work well, and a review will tell you whether you can trust them.                
Of course, on top of learning important information about the vehicle you're considering, reviews give you an idea of where to go to buy your new vehicle. How? It's simple. When it's time to choose a car dealership in Vermont, it's important to find a place you can really trust. You want to know the staff are knowledgeable, informed, and friendly. When you read vehicle reviews from Goss Dodge Chrysler, you get all of this information and more.               
Stop by and talk to the experts in South Burlington, VT. We're your local Chrysler, Dodge, and Ram dealer, and we have a huge inventory of new, used, and certified pre-owned vehicles for you to choose from. We're located at 1485 Shelburne Road in South Burlington. Stop in for a test drive and find exactly what you're looking for with Goss Dodge Chrysler!