Driving with impaired brakes is one of the worst things you can do: you not only increase the amount of damage to your vehicle, but you also put your life in danger and that of other drivers on the road. So to make sure your brakes are working properly, you'll need to have them serviced at a local brake center.
When drivers need their brakes serviced in South Burlington, VT, they bring their vehicles to the service center at Goss Dodge Chrysler. Our staff of trained professionals is ready to help with any brake issue you might be experiencing and to make sure that your car is ready for the road again. Read on to learn about some of the brake services we provide for drivers from South Burlington, VT.
Brake Pad Replacement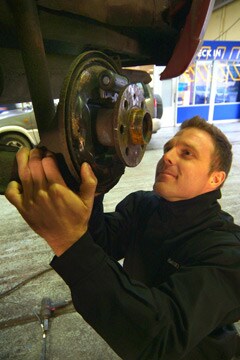 Because your brake pads are the components that grip the rotors and slow down your wheels, it's inevitable that they will wear down over time. Thanks to the copious amounts of heat and friction to which your brake pads are exposed, they'll gradually become less effective and need to be replaced.
Worn brake pads will limit your ability to stop in a precise manner and keep you safe. While brake pad wear is normal, driving without replacing them is dangerous, so schedule your next brake pad replacement at the service center at Goss Dodge Chrysler.
Brake Bleeding
Your brakes depend on the lines that transport brake fluid to allow your car to stop. However, it can be easy for these transfer lines to back up. Air compression bubbles build up over time, but after a while, the presence of numerous bubbles will prohibit the passage of brake fluid to your brakes. Drivers in South Burlington will notice this problem when they need to push harder on the brakes to achieve a full stop.
Our trained professionals at Goss are prepared to help you get rid of these air compression bubbles through our expert brake service. Brake bleeding is the process of removing all of your brake fluid and air compression bubbles and then replacing the fluid with a new batch so you can stop the way that your vehicle is intended to.
Getting your brakes serviced in South Burlington is important for drivers who want to maintain their safe driving practices. The key to brake service is to do the following:
Act on the issue in a time-sensitive manner because driving with impaired brakes will further damage your car and put you and your passengers in danger.
Always have your brakes service by professionals, such as the ones at the Goss  service center, to ensure that they're properly repaired.
Schedule your next brake service appointment with the service center at Goss Dodge Chrysler.