One thing that has become abundantly clear to the Goss Dodge Chrysler Ram Jeep FIAT team over the years is that without the help of our neighbors, we wouldn't have lasted very long. We owe everything to the South Burlington and Chittenden county communities. Knowing this, we think it's about time to give back with some donations to local non-profits who need them most.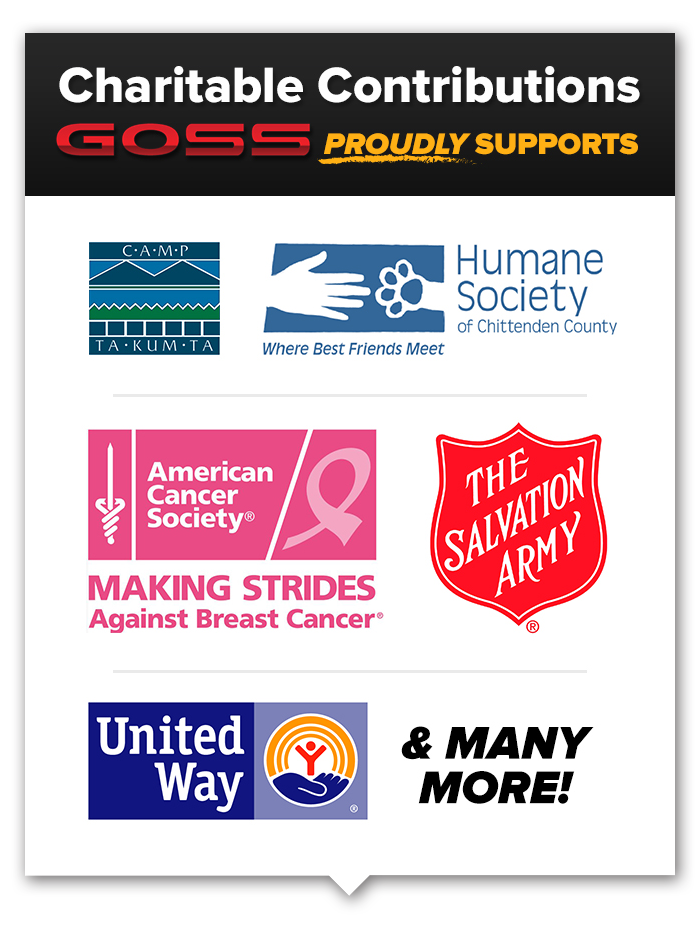 Helping Our Community to Thrive
If small businesses are the backbone of a community, then hardworking non-profits must surely be the lifeblood. In our opinion, they deserve all the help that they can get. As part of our dealership's commitment to our neighbors, we strive to give back and enrich the communities in which our employees, friends, and customers live and work. One of the ways that we do this is by supporting several local charities across our service areas.
Who We're Here to Help
If we could help all the non-profits in the area, we most certainly could. However, the reality is that we receive a high volume of charitable requests on a weekly basis, so we can only focus on so many. For the most part, we focus exclusively on customer-associated donation requests. As a result of this selection process, we are only able to support a small percentage of non-profits, and cannot follow up on the status of submissions. We appreciate your understanding regarding these policies.
Is Your Charity Eligible for Donations?
With a dramatic increase in charitable requests, our giving is at an all-time high. Our corporate charitable budget is committed and prioritized to support charities of choice, as determined by our management and employees. Our focus is solely on the communities we serve. Any local customer-backed non-profit organization, emergency relief fund, civic group, school, church, or youth program will be considered. However, these requests must fall within our geographic footprint to be eligible for a donation. We are thankful and loyal to those who directly support our business. Currently, we are prioritizing:
•
Customer Associations
•
Goss Employee Associations
•
Military & Veteran Association
 Please fill out the Charitable Contributions
Request Information Form below and Submit