In a world where crossover SUVs are thought of as sleek, charming and fun, the idea of the beefy and tough sport utility vehicle - an idea that once was the core of the segment - has largely been left behind. There are, however, a few manufacturers who are still putting out rugged vehicles in this area, both in performance and looks.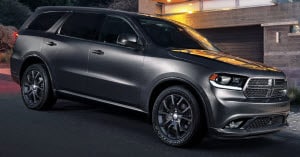 One of the most popular on the market, and one that can be seen tearing up the roads of South Burlington, St. Albans and the entire Chittenden County region, is the Dodge Durango. Enthusiasts of the truck-based bad-boy legacy of the SUV love the Durango from top to bottom and have a lot of anticipation for new model years. Explore the range of features, performance, technology and power you can expect from the 2018 Dodge Durango, and learn where to go for a test drive when it hits showrooms.
An Inside Look at the Dodge Durango
This model year the 2018 Dodge Durango stands to add some truly high performance features to its already powerful lineup. It gets some design features from the sporty SRT model. Most of these are appearance-based, but you also get a larger infotainment display, full smartphone app integration, a new safety feature or two, power liftgate, and some luxury trappings like leather-wrapped steering wheel.
Infotainment System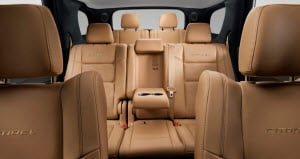 The new year model gets the upgraded Uconnect infotainment system which now comes with a larger, 7-inch touchscreen interface. An upgraded 8.4-inch touchscreen is available, and this version comes with full Android Auto and Apple CarPlay functionality. It's also available with a back seat entertainment system with dual screens and Blu-ray player as well as HDMI ports and RCA inputs to connect additional devices.
It comes with standard Bluetooth connectivity, and optional features are available with audio streaming function. You get three USB ports, an auxiliary input, three 12-volt power inputs, voice commands, and at some levels, a mobile WiFi hotspot, GPS navigation and real-time reports for traffic and weather.
Premium Beats Audio systems are available at higher trim levels.
Power and Performance
The base engine on the Durango is a 3.6-liter V6 engine with eight speed automatic transmission which delivers 293 horsepower. It's upgradable to a 5.7-liter V8 that delivers 360 horsepower, or a powerful SRT model driven by a 475 horsepower monster of a 6.4-liter V8.
The EPA-estimated fuel economy for the new Durango is 19 mpg in the city and 26 mpg on the highway for V6 models, and 14 mpg in the city and 22 on the highway for the V8 model. In the end, while you won't be saving on gas, this is a truck that has the power to get you wherever you need to go, and fans appreciate the sheer performance the Durango delivers.
Test Drive the Durango at Goss Dodge Chrysler
If you happen to be in the Chittenden County area, South Burlington or St. Albans and you'd like to check out the 2018 Dodge Durango for yourself, Goss Dodge Chrysler will be your source. Give us a call or stop in to find out when they'll be available so you can take a test drive!