Oil change services are the most common car services we do here at Goss Dodge Chrysler. They're designed to help your engine run smoother and longer. However, many drivers throughout Burlington and Chittenden County still don't understand why oil changes are so important.
Fortunately, Goss Dodge Chrysler is here to help by providing you with everything you need to know about oil changes in the guide below.
Engine Oil Change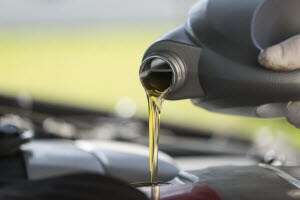 Every 3,000 to 6,000 miles, you should schedule an oil change to get rid of old oil circulating through your engine. It's a simple process where our technicians drain the fluid from the system and replace with clean oil.
Old, dirty oil causes a number of issues including irreparable engine damage, overheating and sludge. Routine oil changes prevent this. When your car is replaced with fresh, clean oil, all the little parts in the engine are lubricated to ensure a smooth performance and prevent overheating. On top of that, this fluid will also help keep its internal parts clean to avoid dirt and sludge buildup.
Five Signs Your Oil Needs Changing
Filter Change
The engine oil filter must also be changed during this service appointment. Once the old oil is drained from your system, our technicians will remove the filter and replace it with a new one.
With time, the engine oil filter starts to accumulate all the debris the oil picks up as it cleans the system. The more dirt it has less the oil is able to flow through. And once the filter is completely full, the oil will bypass it completely and run through the engine's systems carrying many damaging contaminants.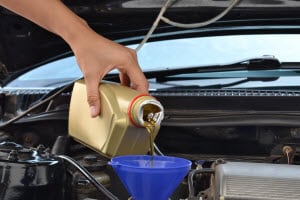 With an engine oil filter change, you can keep excess contaminants and damaging debris out of your engine and ensure only clean fluid goes through the system.
Types of Oil
During your oil change service appointment, technicians will use a specific oil depending on your vehicle's age and type. Below is a breakdown of the oils we use.         
Synthetic Oil is recommended for newer vehicles or performance cars. It's considered a high-quality fluid and provides high levels of lubrication and heat protection.
                 
Conventional Oil is recommended for older vehicles with low mileage that travel through less extensive conditions. This provides adequate lubrication and works well to protect the engine during daily commutes and short drives.
                 
Synthetic Blend Oil is designed for vehicles that regularly carry or tow heavy loads of cargo. It combines conventional oil and synthetic oil to provide an impressive performance. On top of that, this fluid works well in low-temperature conditions.
                 
High-Mileage Oil is for older cars with over 100,000 miles on the odometer and works to protect and extend the life of the engine.
To learn more about which oil is best for your car, contact Goss Dodge Chrysler and speak to our service experts now.
Schedule Your Oil Change at Goss DCRJ!
Oil changes services may be common here at Goss Dodge Chrysler, but they're one of the most important maintenance tasks your vehicle needs. So be sure to schedule routine oil changes at our service department. And if you have any questions about this regular service appointment, call 888-781-3403 today.