As a responsible driver, you probably put a lot of value in keeping your engine, transmission, and tires in tip-top shape to ensure your drives around the Chittenden County, South Burlington, and St. Albans, Vermont, areas, safe. Brakes, however, often get overlooked until a problem occurs.
To avoid brake issues in your future, turn to the certified service professionals at Goss Dodge Chrysler. The team in our state-of-the-art service center knows your brake needs better than anyone and provides the services needed to preserve your brakes and keep them working their best. And, with this brake services guide, you'll know just when to schedule your appointment.
Brake Services near Burlington VT
Brake Services near South Burlington VT
Brake Services near Twin Orchards VT
Brake Maintenance For a Safe Vehicle
The certified team in our service department has a vast knowledge of all aspects of your braking system. To safeguard your vehicle and keep your brakes working properly, we specialize in several brake services right on our lot.
Brake Pad Replacements: Over time, the pads on your brakes will diminish. When this happens, your vehicle will have less braking power, and some strange noises may occur. To avoid this, getting your brake pads changed every 5,000 miles is recommended.
Rotor Replacements: Time and rust are the main culprits to brake rotor problems, and when they occur you'll hear a squeaking that worsens over time. When this happens, new rotors are required. However, for safety's sake, we suggest replacing this vital brake component every 30,000 to 70,000 miles.
Brake Bleeding: A spongy brake pedal is often the result of air getting caught in your brake lines. This is resolved by a simple brake bleeding, but getting it done professionally is best. The air in these lines can seep into other parts of your vehicle and cause more problems, so let us handle the work for you!
Brake Inspections: Our team can also provide you with a thorough inspection of your brakes to ensure they're in good shape. If we happen to find an issue, we'll talk about it with you and provide a game plan to resolve it.
Common Brake Issues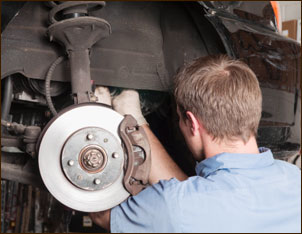 When there is an issue with your brakes, chances are, your vehicle will let you know. It's important to watch for these signs while you're driving as early detection of brake issues can save you a lot of time, money, and stress.
If you come across any of these issues, schedule brake service right away. Our technicians will be happy to fix the issue and get you back on the road safely.
Grinding Noises: Indication of worn brake pads or rotors.
Pulsating: Missing or damaged noise insulators, or brake caliper issues.
Vibration: Loose-fitting brake pads, worn brake pads, or cracked rotors.
Leaks In the Brake Line: You'll see drips on the inside of your wheels.
Dashboard Brake Light: A telltale sign it's time for brake service.
Receive Brakes Service near Me at Goss
Whether it's time for your routine brake maintenance appointment or you need a brake repair quick, the technicians at the Goss Dodge Chrysler service department are here for you. If you're in the Chittenden County, South Burlington, and St. Albans, VT, areas today, make your appointment and we'll take care of the rest!