Some people need a truck for moving furniture, different types of small equipment or for recreational activities, such as camping. Others need one for work, or to tow large pieces of equipment like trailers, boats and construction machinery.
Regardless of whether your lifestyle requires a light-duty or a heavy-duty truck, Ram has what you need. Goss Chrysler Dodge is here to help drivers in Burlington, Colchester and Chittenden County find their ideal vehicle. So we created this heavy-duty Ram truck lineup to help you navigate all of the available options as you search for the right truck.
What's the Difference Between Light-Duty vs Heavy-Duty Trucks?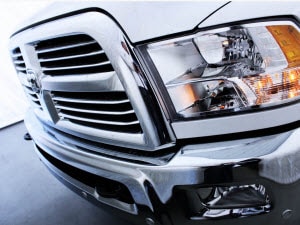 Typically, a light-duty pickup truck, such as the Ram 1500, is a personal vehicle with a towing capacity of around 12,000 pounds and a payload capacity between 1,500 and 3,000 pounds.
A heavy-duty pickup truck, which includes the Ram 2500 and above, is a more professional vehicle with enhanced transmission. The heavy-duty transmission allows for a towing capacity of about 20,000 pounds and a payload capacity around 6,500 pounds.
Ram 1500: A Light-Duty Truck with Heavy-Duty Power
For a light-duty truck, the 2016 Ram 1500 sure packs a serious punch: it has a max towing capacity of 10,650 pounds and a max payload capacity of 1,880 pounds. And despite all of this strength, it's efficient, too. The Ram 1500 gets up to an EPA-estimated 20 miles per gallon in the city and EPA-estimated 28 miles per gallon on the highway.*
Ram 2500
The 2500 is the first truck in Ram's heavy-duty lineup. The 2016 model can tow up to 17,510 pounds and carry a payload of 3,610 pounds[CW2] . It comes equipped with a standard 5.7L Hemi® V8 engine, and it also features a standard 115-V auxiliary power outlet.
Ram 3500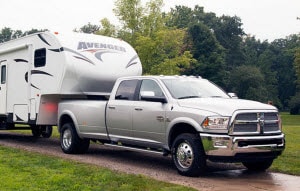 For even more power, you could go with the 2016 Ram 3500. With a max tow of 30,660 pounds, a max payload of 7,020 pounds and an available 6.4L Hemi® V8 engine, this is a truck that will get the job done. It also includes Uconnect® software with a 5-inch touchscreen so that you can always talk on the phone hands-free while you drive.
Ram Chassis Cab
The 2016 Ram Chassis Cab is perfect for the job site, as it allows you to tow a cab without a cumbersome pickup bed. The Chassis Cab comes complete with 17-inch steel wheels and best-in-class 50,000 PSI rear frame strength.
Ram ProMaster City®
If you need tons of room for cargo, the 2016 Ram ProMaster City® is the truck for you. With 131.7 cubic feet of cargo capacity, you can transport anything and everything inside of this vehicle. Best of all, it's environmentally friendly, as well: it even earned the 2016 Commercial Green Car of the Year™ award.
Ram ProMaster®
The 2016 Ram ProMaster offers even more storage space, with over 460 cubic feet of cargo capacity, and a max payload of 4,420 pounds. But despite all of that, the truck still has a 36-ft turning diameter, so you'll have no problem transporting all of that cargo around tight city blocks.
Test Drive a Heavy-Duty Ram Truck Today
With so many options, choosing the right Ram truck can be a difficult process. Luckily, Goss Chrysler Dodge is here to help you with your decision.
If you live in Burlington, Colchester, Chittenden County or the surrounding area, stop by our showroom so that we can answer any questions and offer you the chance to test drive our lineup of heavy-duty Ram trucks.
* EPA estimated mpg with 3.0L EcoDiesel with eight-speed automatic transmission, 4x2. Actual mpg may  vary.