Considered by many to be the "Heart of Lake Champlain", Colchester is a town with deeps roots that continue to grow inside the ancient green hills that surround this stunning lakeside community. Just a stone's throw from the vibrant city of Burlington, this area is filled with so many things to experience and enjoy no matter your age. If you're a local driver in search of a new, certified pre-owned, or commercial Dodge vehicle, consider stopping into Goss Dodge Chrysler.
To learn about all the exceptional services our Dodge dealership has to offer, please take a look at our new Dodge inventory then check out all the services we have listed below.
About Colchester, VT
Hardworking with a deep love for the outdoors is how you can describe the typical citizen of Colchester. Located at the mouth of Mallet's Bay, Colchester isn't just a popular vacation destination for those looking to take advantage of beautiful Lake Champlain or the many nature trails and parks that surround the region, this community is also home to a number of Vermont's first-rate colleges and universities. Surrounded by idyllic landscapes and friendly neighbors, it's no wonder that this small town has been thriving for over 250 years.  
One of the Top Dodge Dealers Near Colchester
Whether you need a sturdy and spacious SUV like the Durango or a vehicle like the Challenger GT loaded with enough speed and horsepower to conquer any highway, our inventory at Goss Dodge is sure to have the perfect vehicle for you.
We're proud to be the number-one supplier of new, certified pre-owned, and commercial vehicles in New England. Every model comes with the durability and advanced technology you expect in a Dodge along with world-class safety and power that has made it one of the best truck brands in the world. To see what we have available, visit our online gallery or stop into our showroom for an up-close and personal experience.
The Right Financing with You in Mind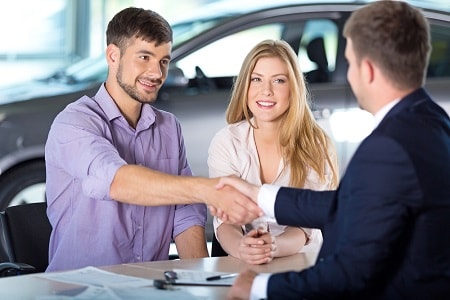 Sit down with one of our financing experts who can help you map out your long-term goals and budget to secure the best financing available to you. Whether you're looking to buy new or trade-in, our Dodge dealership has the resources available to make the entire process go smoothly and provide you with confidence before even stepping foot onto our showroom. 
Get pre-qualified by filling out our form online so you can spend more time picking out the right vehicle for you and less time going over the paperwork.  Use our auto loan calculator to estimate monthly payments that'll give you a clearer picture of the financing options available to you. Have a trade-in? Know it's value ahead of time by heading to our site to explore the market value of your current vehicle.
Guaranteed Dependable Service at our Colchester Dodge Dealership
Certified technicians specializing in Dodge, RAM, and Chrysler models are here to make sure that your vehicle stays in its best condition for years to come.  Whether it's fresh off the showroom floor or has a few miles under it's hood, our professional service team will treat you and your vehicle with the same honest care and respect you deserve. Stop by during service hours to speak with a member of our friendly and knowledgeable service team or fill out an online form to schedule a service appointment.
We here at Goss Dodge Chrysler are here to help wherever you are in the car buying journey. Get to know our line of new, certified pre-owned, and commercial vehicles by scheduling a test drive today!