When looking for a new family car around Chittenden County, South Burlington, and St. Albans, two options immediately come to mind, the 2018 Chrysler Pacifica and the 2018 Honda Odyssey. Each of these minivans are spacious, safe, and reliable, but which one is best for you?
This 2018 Chrysler Pacifica vs. 2018 Honda Odyssey comparison by Goss Dodge Chrysler will help shed some light on the defining features of each model.
Chrysler Pacifica vs. Honda Odyssey Safety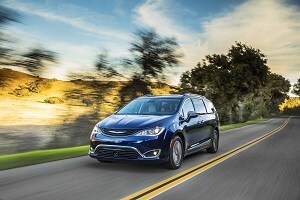 Let's start out with one of the most prevalent issues buyers face when choosing a new minivan, safety. Both the Pacifica and Odyssey offer value in this department, but there are differences to be found.
The safety features for the Chrysler Pacifica are extensive. The 360-degree Surround View Camera helps enhance visibility while parking, while ParkSense® Rear Park Assist System with Stop will detect any objects in your path, either in front or in the rear of the vehicle, before alerting you. If the vehicle gets too close to an object, the brakes may engage automatically to help you avoid a collision.
This automatic detection system extends beyond parking, though. A Full-Speed Forward Collision Warning Plus system will assist you by providing warnings while driving, even applying the Automated Emergency Brake if the vehicle is in danger of a collision.
The Honda Odyssey has a lane departure system that helps keep it in its respective lane. The Odyssey also has Emergency Brake Assistance. Unfortunately, it doesn't have a 360-degree Surround View Camera like the Chrysler Pacifica.
Features & Technology
Entertainment options go a long way in modern cars, as does connectivity with multiple devices, and thankfully, both of these minivans offer a stream-lined, modernized ride.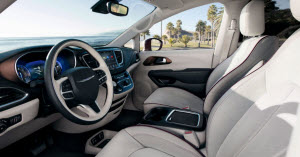 The Chrysler Pacifica has a long list of technological features. The kids will always be entertained thanks to dual 10.1-inch HD touchscreens with a Blu-ray™ player. Wireless streaming functionality, dual HDMI inputs, wireless three-channel headphones, Bluetooth® remotes, and a plethora of downloadable games and apps are all available in the Chrysler Pacifica, as well.
For the adults, convenience can be found in the form of a Uconnect® 8.4 NAV system. This system features an 8.4-inch touchscreen, HD Radio™, integrated Uconnect® Voice Command, and Bluetooth® Streaming Audio with SiriusXM® Satellite Radio. 
The Honda Odyssey, although offering perks such as USB connectivity, auxiliary audio input, and USB with external media control, doesn't come with all the features that can be found in the Pacifica. The most noticeable difference between the vehicles is the Odyssey's lack of downloadable games and apps.
Chrysler Pacifica vs Honda Odyssey Interior
Both the Chrysler Pacifica and Honda Odyssey offer an abundance of interior comfort and space.
The 2018 Chrysler Pacifica features a Stow 'n Go® seating and storage system, creating ample room for both the kids and the luggage, while Easy Tilt seating allows passengers to access the third row with the simple lift of a lever.
The Honda Odyssey, although missing the Easy Tilt Seating feature, is capable of comfortably seating up to eight people, the same number as the Pacifica.  
Schedule a Test Drive Today
This 2018 Chrysler Pacifica and Honda Odyssey comparison gives you a good idea of what to expect out of each car, but the best way to make sure you choose the right one is to experience both for yourself.
If you want to take the Chrysler Pacifica out for a spin around Chittenden County, South Burlington, or St. Albans, contact Goss Dodge Chrysler and schedule a test drive!