Do you love crepes, supporting the local food industry, and doing what you can to live sustainably? Though this may seem like an eclectic combination to some, Folks at the Skinny Pancake are all about it with their farm-to-table breakfast experience!
Not only do they have what we think to be the best breakfast in Burlington, they also strive to prove you can eat locally every day and live a sustainable lifestyle. By partnering with local farmers and donating one percent of all of their earnings to benefit local food movements, your meal is served up with a purpose.
Keeping Green in Vermont
Before we get into how amazing the food is at the Skinny Pancake, we wanted to share even more ways this progressive restaurant is changing the food scene in Vermont. First, the Skinny Pancake is a proud member of the Vermont Green Restaurant Program and is a true leader in the green restaurant movement.
Everything they do focuses on reducing energy and waste. From locally sourcing foods to reduce energy caused by long commutes to collecting cooking oil for biodiesel production, they help our environment. They even practice a zero-waste initiative where they compost, recycle, and donate any leftover food items.
Now, It's Time for Breakfast
The love of breakfast food at the Skinny Pancake is unmatched, which is why they graciously serve up their breakfast menu all day. Though lunch, dinner, and dessert items are available (and are especially tasty), they're all about breakfast and you'll see why as soon as you take the first bite.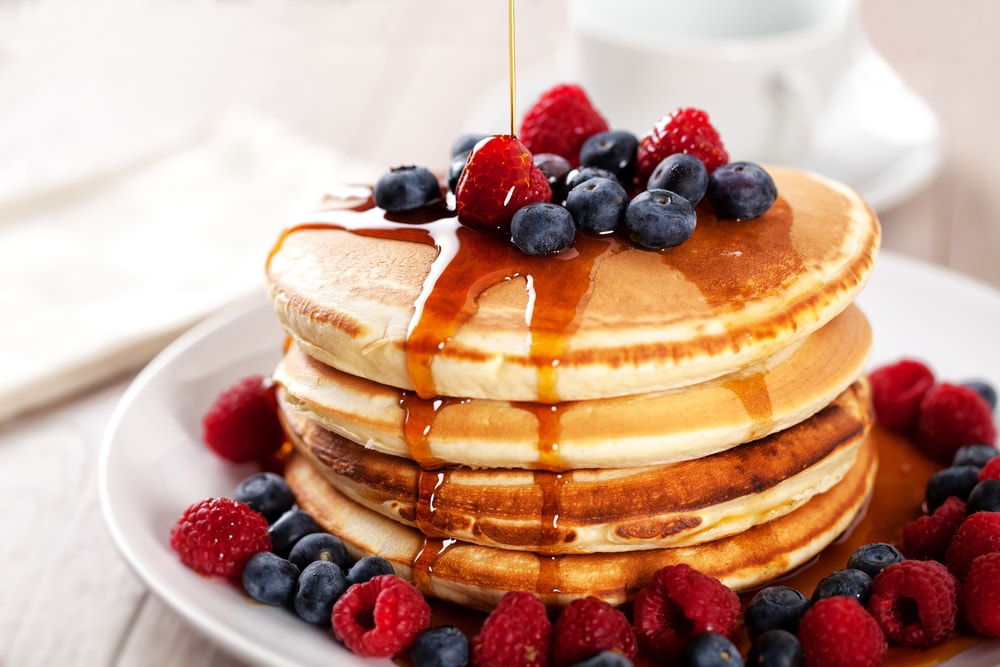 Their menu boasts all the classic brekkie faves like hash and eggs, biscuits and gravy, and a massive breakfast burrito, all inspired and truly satisfying. However, crepes are their game and they win at it every day.
Both sweet and savory crepes are found at the Skinny Pancake and we suggest always getting one of each. We love the Blueberry Crisp where local blueberry compote and streusel nestle into a perfect crepe next to a side of vanilla crème. But they also have chocolate, strawberry, banana, and hazelnut pleasures as well.
When it comes to savory selection, you'll have plenty to choose from. Try the Garfield, a lasagna crepe hybrid or the Veggie Monster with basil-sunflower pesto and veg. Or, go full-on French with their Crepe Monsieur featuring a fried egg, ham, and cheddar cheese with a side of Vermont maple syrup.
Plus, all of the Skinny Pancake's crepes are available with vegan or gluten-free batter. There is really no way to go wrong here.
Head to the Skinny Pancake for the Best Breakfast in Burlington VT
At the Skinny Pancake, you aren't only getting a perfectly prepared meal. You're supporting local business, green practices, and nearby farmers. And let's be real, what's better than breakfast with a cause? Visit their Burlington location today!